For over a decade, Apple has had a virtual monopoly as the computer brand for creatives of virtually any industry. Film editors, graphic designers, architects, composers all seemed to agree that Apple products were straight up better. But Microsoft aims to change all that with the Surface Studio, an exciting new addition to their Surface line.
The first iteration of the Surface line released in 2012 as a hybrid tablet computer and was met with mixed reviews. Microsoft was resilient and continued to expand the line. It now includes, tablets, laptops, interactive whiteboards, and-releasing in December this year-the revolutionary all-in-one Microsoft Surface Studio desktop computer.
There's a lot that looks promising with the Surface Studio, which releases in December 15, 2016. You can see a quick preview in this ridiculously well made TV spot, which, personally, is my favorite film of 2016 so far.
Surface Studio Specs
The Surface Studio is an all-in-one desktop computer, meaning all computing hardware is built into the monitor. This is a computer geared towards artists, so its display is very important. It has a massive 28" display with a crisp 4500 x 3000 resolution.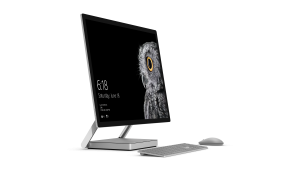 Moving behind the display, the Surface Studio comes with a few hardware configurations that vary in power and price. Within that thin display (the thinnest ever for an all-in-one computer, at 12.5mm thick), the Surface Studio is powered by a 6th generation Skylake Intel Core i5 or i7 processor.
You can get the Surface Studio with 8, 16, or 32GB or RAM, though I would advise against a going with 8GB. The video card choices are the Nvidia Geforce GTX 965M or the 980M. The 980M being the more powerful card, but both cards are near the top. And finally, the storage options are either 1TB or 2TB rapid hybrid hard drive.
Unlike Apple, Microsoft continues to offer common sense ports like four USB 3.0 ports, a headset jack, and an SD card reader slot.
The Reason It's Called The Studio

This is perhaps the first ever computer where the stand it comes on is just as exciting as the computer itself. The reason it's called the Surface Studio is because Microsoft wants to replicate the comfort and intimacy we feel when drawing or writing with paper on the desk.
Despite the Surface Studio being a massive 28" and 13 pound computer, the revolutionary stand allows you to adjust its position as though it were weightless.
I don't mean simply changing its height. When pushed down, the Surface Studio lays nearly flat against your desk. This position allows you to get close to your work, to stand over it and lean on it just the way you would when working on paper.
I'm no artist, but this simple feature is exciting to me even as a writer. I grew up writing on paper, and that medium still feels more personal to me than writing on computers. My writing voice feels more natural on paper, more like me. Despite that, the world has become digital and all art has had to move along with it.
If the Surface Studio can help artists recapture that personal feel on a computer, I imagine that might be the biggest selling point of the whole machine.
Dial It Up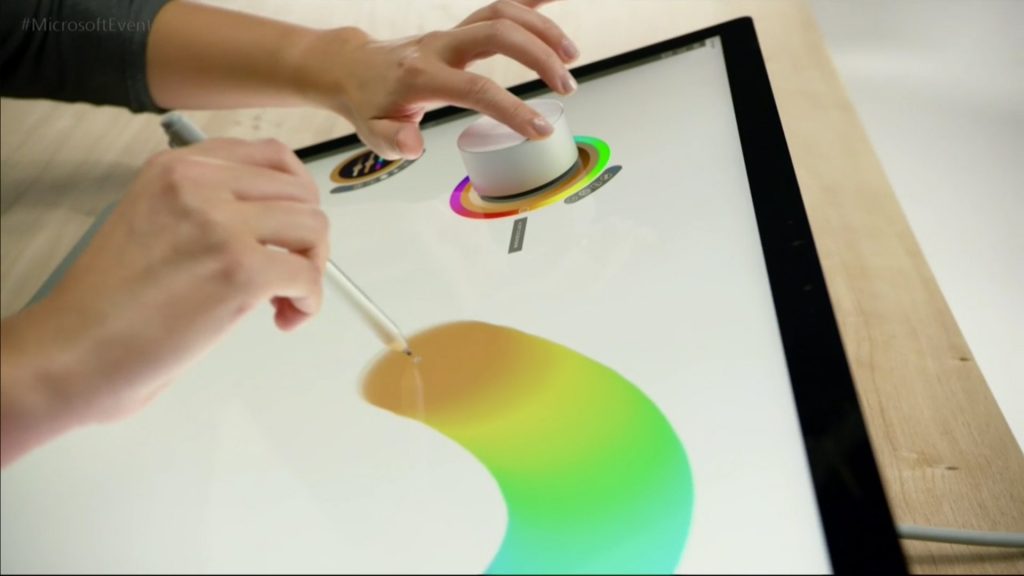 The Surface Studio's revolutionary stand may fly under the radar, but the Studio's Surface Dial is flashy and sure to get a lot of attention.
The Surface Dial is essentially another user interface device like the keyboard or the mouse. It's both a button to be clicked and a dial to be turned. It will typically stay on the desk, but it can also stick right onto the screen for additional functionality. It's uses are sure to grow over time, but it can already do some impressive things.
Artists can turn the dial to change the color their painting with on the fly. If the dial is stuck to the screen, they can even see the color wheel around it. Another thing artists can do, and I'm not even entirely sure how this technically works, is use the dial to rotate the image. With a mix of dial rotating and touch screen zooming, artists are able to create an entire 3d world inside their picture.
Other practical uses for the dial include easily flipping through pages of long documents, having quick access to commonly used menu options, and anything else you might want to program it to use.
In Short
The Surface Studio is targeted at a select audience of people who want a device they can use both as a computer and as a canvas. However, for that target group, I can only imagine this to be their dream machine.