So, you have got that notification to be one of the crowds getting a free upgrade of Windows 10. But, suddenly you realize that when it comes to an upgrade, you might have some setbacks. You actually don't have any problem with the current one or you run a different operating system. You just need reasons to take the offer – or not – beyond the word 'free' itself.
So, if you think of those in your mind, scroll down this page slowly. Or, you can just scan it if it's too long. Now, here are the 15 things you should consider.
The notification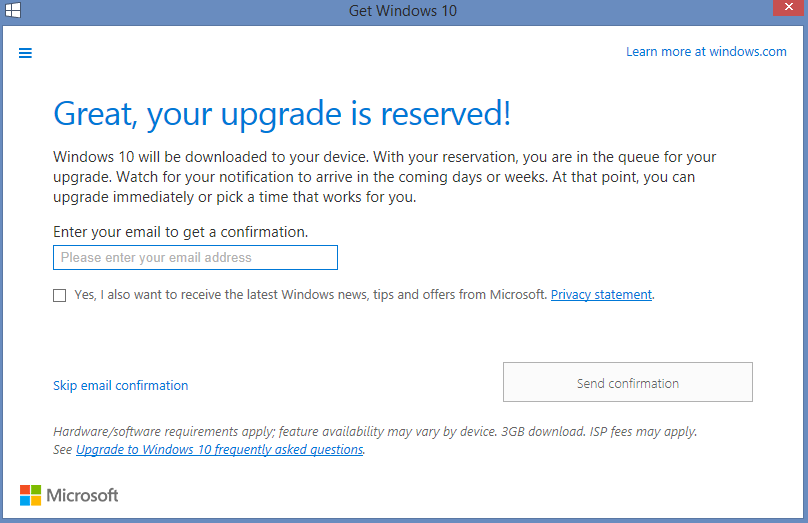 YES – You can take it if you have reserved your free Windows 10 upgrade through Windows 10 app. You will get a notification for download.
NO – You can't take it if you got a scam mail, not the one sent by Windows. Or, you just open this page after July 29, 2016 – which is the last day of the offer.
back to menu ↑
The compatibility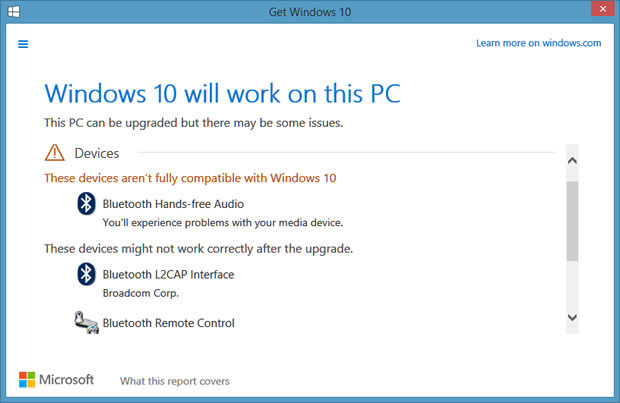 YES – if you already bought or own a device with Windows 7, Windows 8.1., or Windows 10. Wait… what? Windows 10? Yes, the FAQs page says that it will be automatically updated.
NO – if you are still in love with your Windows XP. And, don't take it as well if you are not sure whether the feature you need will run on your device. Oh, yes. The smaller font on the page footer says that some hardware or software might not meet the requirements. You don't want to finally borrow someone's device just to use their feature, right?
back to menu ↑
The specification requirements (for Windows XP or Vista users)
YES – if you finally able to install your purchased Windows 10 on your device.
No – if you don't want to have a "clean" install. And, did you just mention 'purchased' above? Err…
back to menu ↑
The device storage
YES – if you can provide 3 GB for the download.
NO – if you prefer to keep that old photos from high school leaving only 2 GB of storage. Except if you want to carry a USB flashdisc to carry around, this choice is not for you.
back to menu ↑
The Internet Connection
YES – if your fast and stable broadband internet connection allows you to download in an hour or two.
NO – if you are staying in an area with a slow and unstable internet connection. It's 3 GB, remember?
back to menu ↑
The metered Internet connection
YES – if you are aware that every data sent is on metered Internet connection. And the most important thing is that you can pay for the amount of data sent.
NO – if you don't have any data left or you cannot afford it.
back to menu ↑
The Processor
YES – if your device processor is 1 gigahertz (GHz) or faster.
No – if you found that your device processor still reads hundreds of megahertz. Seriously, man, you need an upgrade.
back to menu ↑
The Genuine Version of Windows
YES – if you own the genuine Windows version. Yeah, you can show it off to your friends.
NO – if you keep on reading ""You May Be a Victim of Software Counterfeiting" message box showing on your screen or you know that your version of Windows is fake.
back to menu ↑
The permission to install
YES – if you are the owner of the device. Or, you have got a permission to install it from your school or business network's IT administrator.
NO – if you just had an fight with the IT administrator and you know he will not let you install anything whatever the reason is.
back to menu ↑
Edition of Windows
YES – if you already know that you'll stay on like-to-like editions of Windows. For example, Windows 7 Home Basic will upgrade to Windows 10 Home.
NO – if you insist to upgrade to Windows 10 Pro from your Windows 7 Home Basic. You're asking too much, Man!
back to menu ↑
The one-month period to revert
YES – if you can think fast in one month should you decide to go back to your previous version of Windows.
NO – if you are a wishy-washy or you're too wise by having your decision made in a year.
back to menu ↑
Music and video streaming through the Music or Films & TV apps
YES – if you live in one of Xbox Live countries. Check here to find yours.
NO – if you live out of the region mentioned in the link above,
back to menu ↑
The Pre-installed Games
YES – if you don't really play those old Minesweeper, Solitaire, and Hearts Games that came pre-installed on Windows 7. You wouldn't mind to have them removed and replaced by the new version of Minesweeper and Solitaire called the "Microsoft Minesweeper Collection" and "Microsoft Solitaire".
NO – if you are a huge fan of those three pre-installed games and think that the new games would destroy your beautiful memories existed with the game.
back to menu ↑
The Windows Media Center
YES – if you agree to remove your Windows Media Center from your version of Windows 8.1 Pro, Windows 8 Pro, Windows 7 Ultimate, Windows 7 Professional, or Windows 7 Home Premium. Is there a replacement? Yes, as the official page said. You can have a limited time DVD playback app called "Windows DVD Player". They call the limited time as the "eligible period". You also don't mind if the Windows DVD Player is not installed immediately, but after the first "successful" Windows Update. However, you can buy The Windows DVD Player from the Window Store when the eligible period lapsed, you have a non-qualified system, or you had a "clean install"
NO – if you underline and raise your eyebrow on the clause 'You can buy The Windows DVD Player from the Window Store!" above. This will not apply as well if you really love that Windows Media Center a lot, you cannot let it go.
back to menu ↑
Conspiracy theory
YES – if you don't believe in this crap and wondering why it is on this list.
NO – if you think that upgrade is a conspiracy theory because it's free. Don't take the upgrade also if you think the option to upload your files to OneDrive is the way of powerful people to get to you. Geez, you think your life is that interesting, aren't you?