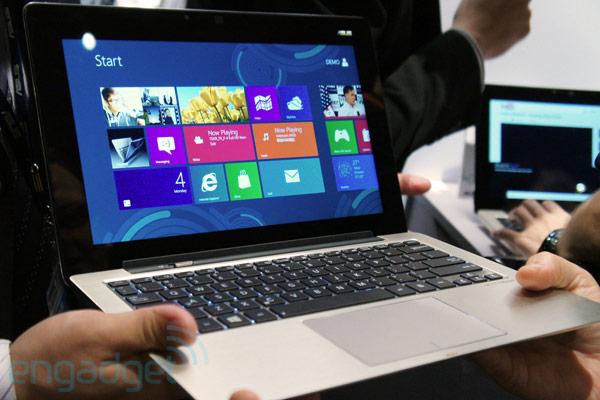 What is a detachable laptop?
Technology is always developing for more and more innovative and sophisticated use because it seems that human can not be separated from the technology itself. The purpose of having developed technology is to ease people in doing their job. As the technology develops, computer and laptop are doing its innovation too. All brands are trying to attract the customers' attention by launching the innovative and distinctive features and specs from their products. After chromebook, ultrabook, notebook are in the market, now it is time to get closer to detachable laptop.
No more complaining about the weight of your gadget, when you can have many things to obtain, that is innovation, efficiency, and shape. This detachable gadget is used to comply those purposes.
Have you ever thought having a convertible laptop and a tablet at once? Then your thought comes true. This gadget is created and produced to fulfill the people's loaded works. You save more time to do other things besides work because you are powered by tough and sophisticated integrated features of gadget. The most powerful thing is this 2 in 1 gadget has maximum power of laptop so you can say that the tablet which has the built-in laptop power.
A detachable laptop has dual functions, which combines the flexibility and the strength of a laptop with the efficiency and easy-to-carry-on tablet. This design is quite a catch and the shape comes in handy because it works as two. If you are working at home, a laptop version will ease and comfort your work. But if you are mobile person, you just need to take the tablet with a stand to use and this device can be used as a portable gadget anywhere.
If you are looking for some 2 in 1 devices with affordable price, here we summarize some recommended and best detachable laptops from different brands.
List Detachable Laptop 2017
Detachable Laptop
OS
Display
Main Specs

ASUS T102HA-D4-GR

Windows 10
10.1-Inch
CPU: Intel Atom x5-Z8350
GPU: Intel HD
RAM: 4 GB
Storage: 128 GB

Last price update: 2017-05-04 18:20:40

ASUS Transformer Book T100HA-C4-GR

Windows 10
10.1-Inch
CPU: Intel Cherry Trail x5-Z8500
GPU: Intel HD
RAM: 4 GB
Storage: 128 GB

Last price update: 2017-05-04 19:18:02

HP Pavilion x2 12-b020nr

Windows 10
12.0-Inch
CPU: Intel Core M3
GPU: Intel HD Graphics 515
RAM: 4 GB
Storage: 128 GB

Last price update: 2017-05-04 18:52:35

HP Spectre X2 12-a008nr

Windows 10
12.0-Inch
CPU: Intel Core m3-6y30
GPU: Intel HD Graphics 515 2GB
RAM: 4 GB
Storage: 128 GB

Last price update: 2017-05-04 18:41:23

Toshiba Satellite 10 LX0W-C64

Windows 10
10.1-Inch
CPU: Intel Atom Z8300
GPU: Mobile Intel HD
RAM: 2 GB
Storage: 64 GB

Last price update: 2017-05-04 18:20:30

Microsoft Surface Book CR9-00013

Windows 10
13.5 inch
CPU: Intel Core i5
GPU: Intel HD Graphics 520;
NVIDIA GeForce DGPU
RAM: 8 GB
Storage: 128 GB

Last price update: 2017-05-04 18:20:20

Acer Switch Alpha 12 SA5-271-39N9

Windows 10
12-Inch
CPU: Intel Core i3-6100U
GPU: Intel HD Graphics 520
RAM: 4 GB
Storage: 128 GB

Last price update: 2017-05-04 18:20:12

ASUS T102HA-D4-WH

Windows 10
10.1-Inch
CPU: Intel Atom x5-Z8350
GPU: -
RAM: 4 GB
Storage: 128 GB

Last price update: 2017-05-04 18:20:05
What Processor Needed?
A processor is like a brain which controls the performances of the gadgets. This is one of the most important components that needs to be considered when buying this. If you want to have a better performance in computing and online or offline gaming, you must choose the mid till high end processors. The mid end and high end CPUs are more expensive compared to the low end ones. But if you want to be able to use it only for basic needs like watching YouTube, doing the presentation, listening to music, and browsing internet, the low end brain will do good for your satisfaction.
When it comes to processor, Intel and AMD are mostly used as CPUs in any computer brands. Those two brains have different ways for operating the gadget and from the price perspectives, they are different in price range. Intel and AMD have its own pros and cons. If you are a gadget freak, you generally know their own pluses and minuses.
Intel is a very well-known CPU brands among the gadget freaks. The price is rather expensive compared to AMD. But instead of the price, Intel boosts and slows down the computing performance when the computer is going to heat because it has integrated chip which can manage the temperature so that the laptop will not be overheated. Furthermore, this CPU can be fully used for more complicated computing performance. But since it results good performance, this brain needs to handle with care because if it is broken, this processor is quite expensive to fix. Intel is attached with motherboard so you need to fix both of them. But despite of its weaknesses, many brands like Asus, HP, Toshiba, Acer, and many mores trust Intel as a recommended CPU in their products.
Whereas AMD is well-known for the cheaper price processor and it has very fast performance especially for the online and offline gamers. But the minuses from this CPU is, it is easily overheated and it can't perform multiple applications at once without being lagged.
The high end brain for this convertible laptop is Intel Core i7. The computing performance is quite fast because this kind of brain will accelerate and boost the use and functions. This high end i7 laptop is laptop for gaming. It will be suitable for you who love to play online game. You will not be bothered by lagging or slow response of the game.
If you are asking for more complex computing, where some big size softwares are used, then Intel Core i3 and Intel Core i5 will serve you with more useful profitability situation and some cool and distinctive computation.
But, if you have limited budget, Intel Atom, Intel Celeron, Intel Quad Core, and Intel Core and Atom CPUs overall serve you some basic applications for your work. This is great for students who are busy with their college life because this kind of processor is targeted for students. That's why this is called for laptop for college.
Which Brands do Launch?
A competition triggers one to another to become the best. All computer brands will do the same too. If one brand launches a detachable appliance, the other brands will follow to launch the same or some upgrading specifications from the previous products too. Then the customers need to choose carefully which brands will fit in their needs and budget. Many computer brands such as Toshiba, Asus, HP, Acer, and others will give you and satisfy you with many pros from their own products. You just need to check them what is your thought into?
How much is Storage Required?
Don't expect to have 500 GB till 1 TB hard drive storage from this detachable laptop. You cannot save the various big size data in this appliance. Because this gadget is designed to emphasize more for the compatible and easy-to-carry-on access for computation so the performance will be limited. This storage merely enables the users to do some basic uses such as watching movies, typing, or the regular internet browsing.
If we look around for the storage, 4 GB of RAM is mostly standard size integrated in the hybrid gadgets, but if you use if for more complicated works like laptop for video editing, 16 GB with additional memory will work more for your need.
Besides paying attention for RAM, the capacity for strong state drives (SSDs) will serve you with great execution of saving more data. The size varies from 32 GB to 128 GB or can be more. More sizes SSDs more money you will spend.
There are various RAM size and also solid state drive (SSD) in each hybrid devices even though most of the hybrid ones have 4 GB standard RAM but still there is also 1 GB RAM still found in this gadget. Many detachable ones are empowered by 1 GB RAM with 32 GB solid state drive, 2 GB RAM with 32 GB solid state drive, 4 GB RAM and 64 GB solid state drive, and 4 GB RAM with 128 solid state drive. If you think that the storage size is small, you can put your data in extended or external hard drives and USB. You can also save your data through data storage on the internet.
What Display and Screen Resolution are Recommended?
Many low to mid end detachable laptops have 1366 x 768-pixel pixel displays resolution. Still, you manage to have better full high definition of 1920 x 1080 pixels screen resolution to enjoy the clear and bright performance and these pixels are totally recommended.
With higher specs and processors, a few series of the appliance products come with exclusively higher resolution of a quad HD 2560 x 1440 pixels screen display. This kind of screen resolution will enable you who need to have the great laptop for graphic design. But, regardless the high quality screen, the weakness of higher resolution boards is that they need to have more battery life so it is not that efficient for you who need more battery power during the mobile work.
But some affordable devices are launched to fit on the customers' need. You still can find many detachable ones with standard screen resolution of 1280 x 800 pixels, and the sharp quality of screen resolutions 1920 x 1200 pixels and 1920 x 1280 pixels, in which these full high definition display pixels will deliver the details and impressive viewing angles. You think, you choose, you spend.
How Long does the Battery Life Survive?
Imagining to bring the charger all around is not convenient at all. The more battery life can last, the durability of this gadget will be proven. One of the features that the users would love to have from this gadget is having long battery life. Since the tablet is empowered with the laptop power, the practicality and efficiency will do more for this hybrid gadget. It will be more uncomfortable for the mobile users if this hybrid gadget has very limited battery life. Most of hybrid products are generally completed with lithium ion battery.
Talking about the battery specification, this detachable laptop excels in battery life. The power may vary but the average of the battery power is quite longer compared to the conventional one. This power of battery will last depend on the use. The battery will last longer if it is for light use but the battery will be less lasting if it is for heavy use. But you can trick the battery use by using the application where you can adjust the power saver and the screen resolution to save up the energy.
Many products vary in battery life. The longest hours of power in light use performance will take the energy up to 11 till 12 hours. But the average power of battery lasts up to 7 hours till 8 hours. you definitely save more time using this gadget.
How much Budget Needed?
With competitive rates in the market, all computer brands offer their products with affordable price and amazing specifications and features. Still, you need to think of the reasons why you need to buy this hybrid item because more money you spend more complex computing operation you can have. The price rates are from 150 dollars to well over 2,500 dollars, will undoubtedly be the best hybrid laptop to fit your expense cost. You also need to set the budget and the need so that you will not regret for every penny you spend. If you are willing to spend more, you can have some laptops with discrete and high end controlling centers, which will impress you without minor nor major distraction lagging.
The price of detachable laptop is considered cheaper. The specs and additional features complete its performance and the grand design. This gadget can be considered as affordable laptops. Besides the price is reasonable, this gadget item is lightweight and thin even though the power machine is located right in its tablet body, which makes the body heavy. But, the size will not bother too much. It will be easier to carry on for mobile working or for working at home. The higher the feature is the more expensive it will be. For the cost, you can buy the type of hybrid computer under $300 price worth which is more beneficial for students or college students to do their assignments or just do the basic computing. There are also available $500 laptops from many famous brands which are specialized for playing online or offline games and doing more complex and multiple computing works. This hybrid product will amaze you with never ending satisfaction more than the money you spend.