So, Windows 10 is getting more popular as some manufacturers rushing to release laptops with the pre-installed OS. One of them is Asus version of F555LA-AB31 that brings about cool features under $500 price tag. To name a few, they present Windows 10 running in the 5th generation of Intel Core i3 CPU and 4 GB of RAM. But, that's not what the awesomeness means for Asus. It's the Full HD (1920x1080p) screen that surely is the killer.
Still thinking? Scroll down to find out whether this one meets your checklist of 'gonna buy' item.
Modern Design of Desktop Replacement Notebook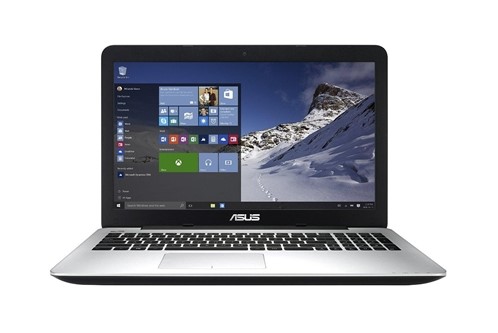 With its 10.10-by-15-by-1 inches (LWH) dimension at a 5.1 pounds weight, it may give you a desktop substitute with on-the-go function. Despite the bulk, Asus F555LA-AB31 has an easy on the eyes dual-tone design with its fingerprint-resistant black exterior. The silver palmrest, touchpad, and plate around the keyboard are built with matte coating to give protection from your own fingerprints and accidental slight dents.
Last price update: 2017-06-10 20:48:42
back to menu ↑
The Spotlight is on the Display
The feature that will definitely rock the user's world is its 1920x1080p Full HD display. Not to mention, the viewing experience will give you less glare due to the matte layer on top of the 15.6 inch screen! Isn't that, something?
"Nah, I need bigger than 1080p," you said. In that case, just connect the laptop to a bigger monitor or your TV using the HDMI or VGA port to have the highest resolution of 3840×2160 pixels.
"Man, it's not enough!" Well, now you'd better save your bucks until you get three to four times more to get that 4k laptop and live without one while saving it.
back to menu ↑
Performance worth the price
If you are merely watching YouTube and typing on MS Office Suite, ASUS F555LA-AB31 is quite reliable. It uses the 5th-generation Intel Core i3-5010U 2.1GHz Broadwel-based Core i3-5010U. And if you're a typical person who gets frustrated with a heated notebook, you will love the low power consumption that merely take TDP 15W.
As for gaming, you can play League of Legends, Counter Strike: GO, or Dota 2 if you like. But, remember that ASUS F555LA-AB31 will not give you decent frame rates if you play the latest graphically demanding games on the highest setting. The main cause is the graphics which is powered by Intel HD. Therefore, you can merely expect many newer games running on low to medium settings. Alternatively, you can play browser-based games that work without issues.
Multitasking is also not a problem – in normal use – with its 1600MHz DDR3L 4GB RAM. The support of 500GB 5400RPM with DL DVD±RW/CD-R is quite useful since cloud storage draw more attention recently. If you're rolling your eyes when you read the previous sentence, just remember to check your expectations since you are paying only pennies for this kind of ASUS.
back to menu ↑
Other stuff to consider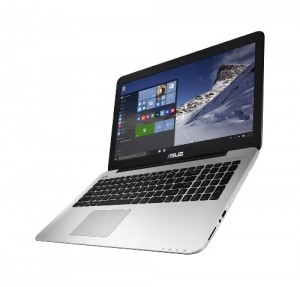 Now, let's talk about battery life. If you think that the 1080p screen will consume a lot, well, it might be true. But, if you use it with typical usage, the 2-cell battery can last up to 5 hours. Yup, thanks to that 5th generation i3 processor low energy supplies.
In support of the wired connectivity, the Asus F555LA-AB3 comes with wireless LAN and an ethernet port. And for the wireless function, Bluetooth (v4.0) and WiFi networks (802.11 b/g/n) are also available. Your data needs are also covered with three USB ports (2 of 3.0 and the other one is 2.0) and an SD card reader.
And also, with that price, you also get Windows 10 that helps to multitask, ASUS SonicMaster for not-so-bad aydio experience, and the best of all: ASUS after sales awesome service with its a 1-year Accidental Damage Protection that provides protection against drops, spills and electrical surges.
Last price update: 2017-06-10 20:48:42
back to menu ↑
Asus F555LA-AB31 Specs
Specification
| | |
| --- | --- |
| Operating System | : Windows 10 |
| | |
| --- | --- |
| Processor | : 5th-generation 2.1 GHz Core i3-5010U |
| | |
| --- | --- |
| Graphics Coprocessor | : Intel HD |
Display

Screen: 15.6 inches

Resolution: 1920*1080 pixels
| | |
| --- | --- |
| Optical Drive | : DL DVD±RW/CD-RW |
| | |
| --- | --- |
| Connectivity | : 802.11 A/C |
| | |
| --- | --- |
| Ports & Slots | : 2 x USB 3.0, 1 x USB 2.0, 1 x HDMI and VGA ports. |
Dimensions

Length: 15 inches

Width: 10.10 inches

Height: 1 inches
| | |
| --- | --- |
| Warranty | : 1 year Accidental Damage Protection 1 year International Warranty |
| | |
| --- | --- |
| Similar Laptop | : ASUS X551MA |
15.6" Full HD (1920*1080) provides more clarity and sharp visual experience on video, photo and games; Powerful 5th-generation Intel Core i3-5010U 2.1GHz, Broadwell.; 4GB RAM/ 500GB 5400RPM with DL ...
Made by: Asus, Available:
In stock
back to menu ↑
Compare to Similar Laptops
Laptop
ASUS F555LA-AB31
Toshiba Satellite C55-C5241
Toshiba Satellite C55-B5240X
Processors
2.1 GHz core i3 5010u
2.2 GHz core i5 5200u
2.16 GHz celeron n2840
Graphics
Intel HD
Intel HD graphics 5500 Mobile
Intel HD graphics 5500 Mobile
RAM
4 GB
4 GB
4 GB
Storage
500 GB HDD
1000 GB HDD
500 GB HDD
Operating System
Windows 10
Windows 10
Windows 10
Display Size
15.6-inch
15.6-inch
15.6-inch
Average Battery Life
4 hours
5 hours
-
Where to Buy
Buy Now
Buy Now
Buy Now
Done. Now, have you made up your mind? For more laptop teradatariver.com