When shopping for any item you want to make sure that it suits your needs, and filtering through technology can be a daunting task. There are so many new products released every year that it can be hard to keep track. Thankfully, we live in a world based on consumer preferences and you can look online to find what you're looking for. Whether you Google reviews, or use helpful articles like this, it is possible for you to find the ideal computer for your life. There are a few factors that make up your purchase, but if you approach the shopping process systematically it is possible to find the perfect device for you.
Acer is a name that has been around for a long time, and although not seen as a powerhouse in the market, this is a trusted brand. Acer is also seen as one of the most affordable brands, which means that this PC will give you a significant amount of bang for your buck. The Acer Predator Helios 300 Gaming Laptop may appeal to those that want to play online games, but this device has features that will suit any laptop owner.

Price Point
The first thing that any consumer notices is the amount of money that they are spending on what they're buying, and purchasing a computer is no different. Thankfully, you can now find affordable options that have all the specs you need. With this Predator, you can purchase it for slightly more than 1,000 dollars. Viewed as a median price point in the market, it is a bit more expensive for a PC. If you're not looking to shell out a little bit of money then this model might not be the option for you. However, you will spend less on this laptop than you spend on several competitors including Macs.
back to menu ↑
Acer Predator Helios 300 Specs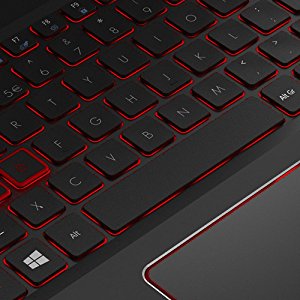 This device is a 15-inch screen which is the ideal size for you to carry around with you from class, work, or home. If you're not looking for something portable, then this might not be important to you, but remember you might need to travel in the future and this size will come in handy. Equipped with an Intel Core i7 processor, this beast can handle even the largest programs. If you are into video editing, extensive gaming, or data heavy programs then this device is for you. Then, to back up this processor is 16 GB of memory. This is the perfect combination for those users that need a laptop with some power behind it and the memory to store large data files. This is a computer that will follow you through the next several years of your life, and can serve many different purposes. Also, if you are on the go, this laptop boasts up to 7-hours of life on the battery, and this ensures you will have enough time to find your next plugin. One of the main draws to this computer is purely aesthetic, with a black case and red accents, including a backlit keyboard, make this a nice-looking machine.
Last price update: 2017-11-06 18:39:37
| Acer Predator Helios 300 | Main Specs |
| --- | --- |
| CPU | 7th-gen Intel Core i7-7700HQ Quad Core Processor (Up to 3.8GHz) |
| Graphics | NVIDIA GeForce GTX 1060 6 GB of dedicated GDDR5 VRAM |
| Display Size | 15.6-inch |
| OS | Windows 10 Homex |
| Memory | 16GB DDR4 Memory |
| Storage | 256GB SSD |
back to menu ↑
Pros
This is an ideal computer for gamers because it had the power to run programs and the graphics to back it up. Also, this device has enough to room to successfully run any games, store documents, and operate as your daily computer to get your tasks done. Finally, the look and build of this laptop is unlike most other competitors, so you get to have a sleek design as well as powerful hardware.
back to menu ↑
Cons
This is a bit more expensive than other laptops in the market, and this can be a negative factor if you are budget conscious. It is possible to find these specs in a machine that is priced more moderately.
Last price update: 2017-11-06 18:39:37
In conclusion, the Acer Predator Helios 300 is a good find for someone looking for a gaming laptop that has the power to operate any program effectively. The size and style of this device make it a joy to carry around, and is sure to make you the envy of all your colleagues. You are really stepping out of the box when you decide to purchase this piece of technology. With this purchase, you're sure to have every specification you need to complete tasks in your daily life.