If you are into gaming, and you plan to purchase a laptop that is capable of displaying a wide variety of demanding games, then you are at the right place. In this article, we have reviewed Aspire E5-575G-53VG manufactured by Acer. Read on to determine if this device is Acer's best laptop for gaming and other tasks.
Design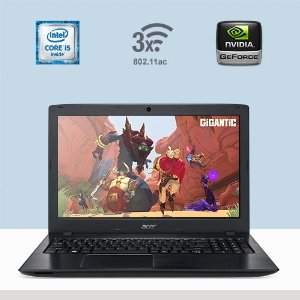 Acer Aspire E5 is a slim and ultra-portable gaming laptop for just 600 dollars. Its black base and lid are made of high-quality plastic materials, which have been embossed with a clothlike texture to offer a great feel and to prevent possible fingerprints from appearing on the surface.
Measuring 1.2 inches in height by 15 inches in length by 10.2 in width and weighing 5.29 pounds, the Aspire E5 is a stylish, stocky and heavy enough laptop for price-conscious shoppers. There is a proprietary power connector and a USB 2.0 port on the right side of this laptop. Other ports such as VGA, HDMI, Kensington lock, Ethernet and USB 3.0 connectors are located on the left side of the laptop.
Last price update: 2017-12-05 15:06:00
back to menu ↑
Software, Operating System and Storage
The laptop comes pre-installed with Microsoft's Windows 10 Home operating system that runs on a 256GB Serial ATA/600 hard disc. While this hard disc won't overheat, the laptop is pre-loaded with adware and bloatware. Some of these Softwares might not be of any importance to some users. Not only there are dozens of Softwares, but also a wide range of pre-installed junk free-to-play games, an Amazon button and Acer's own apps that are pre-cluttered on the system's taskbar and desktop.
back to menu ↑
Display and Resolution
This Acer Laptop for gaming comes with a 15.6-inch screen size that displays objects on Active Matrix TFT Color LCD. The screen has a full-HD resolution, something that is found on pricier laptops. This 15.6-inch screen does not offer wide viewing angles of an IPS screen, but at full brightness, the pictures are relatively strong with an average of 250 nits of brightness and can be viewed well from most angles.
back to menu ↑
Keyboard, Webcam, and Touchpad
Opening the lid reveals the blacklit keyboard deck that has been embossed with a diamond print. When it comes to faster typing, its 1.6mm keys are better than the typical 1.5mm. The Aspire E5's webcam comes with an HD Webcam that is clear enough for less noise and average detailed videos and photos. Its 4.2 x 3-inch touchpad is very responsive and does a good job recognizing edge-swiping gestures.
back to menu ↑
Performance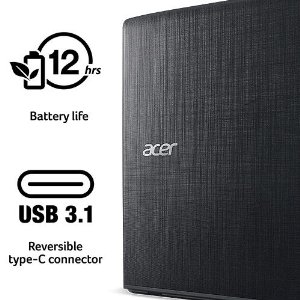 This Acer 15 inch gaming laptop is powered by a 2.30 GHz Dual-Core i5-6200U processor and 8GB of RAM. With this memory specs, the laptop performs well on various benchmark tests. For instance, it managed a 1,700 in the Geekbench 3 performance test which is far much better than most recent gaming laptops. The laptops high scores can be attributed to it having 8GB of RAM.
When testing the system's ability to multitask, it takes less time to complete scheduled tasks compared to most gaming laptop under 600 dollars. When we singled out gaming performance, the system's Aspire E5 NVIDIA GeForce 940M Graphics recorded a good rating. Most games play at an acceptable speed even at the lowest setting. For example, on 1366 x 768-megapixel resolutions the laptop managed 31.9 frames per second, which is above the 31-fps average and 30-fps playable threshold for most gaming laptops.
Last price update: 2017-12-05 15:06:00
back to menu ↑
Battery Life
The Aspire E5 comes with a 6-cell Li-Ion (2800 mAh) battery that can last for several hours without recharging. When we tested a brand new system on the Laptop Mag Battery Test, it lasted for 8 hours. This means that this Acer Gaming Laptop under 600 can last while you are away from a power outlet in the classroom or on a commute.
PROS:
Good battery life
Enough memory
Bright display
Stylish design
Affordable
Comes with a variety of built-in devices such as webcam, microphone, and fingerprint reader
CONS:
Low performance when the laptop is under pressure
The laptop is available in black color only
back to menu ↑
Acer Aspire E5-575G-53VG Specs
Specification
| | |
| --- | --- |
| Operating System | : Windows 10 |
| | |
| --- | --- |
| Processor | : 6th Gen Intel Core i5-6200U |
| | |
| --- | --- |
| Graphics Coprocessor | : 2GB NVIDIA GeForce 940MX |
Display

Screen: Obsidian Black

Resolution: 1920 x 1080 pixels
| | |
| --- | --- |
| Optical Drive | : DVD-Super Multi Double-Layer Drive |
| | |
| --- | --- |
| Connectivity | : 802.11ac Bluetooth 4.1 |
| | |
| --- | --- |
| Ports & Slots | : 1 - USB 3.1 (Type C) port 2 - USB 3.0 Ports (One with Power-off Charging) 1 - USB 2.0 Port 1 - HDMI Port with HDCP support |
| | |
| --- | --- |
| Audio | : Two Built-in Stereo Speakers |
Dimensions

Length: 15.02 inches

Width: 10.2 inches

Height: 1.19 inches
| | |
| --- | --- |
| Battery | : 12-hours Battery Life |
| | |
| --- | --- |
| Style & Type | : Standard, Gaming |
back to menu ↑
Bottom Line
The Aspire E5-575G-53VG is one of Acer's most affordable laptops with stylish design, bright display, enough memory, good battery life and many other benefits. It is one of the stylish laptop for price-conscious shoppers who want to get their strenuous daily tasks done. It is also one of the best options if you want to get more performance for your money.