What makes an ultrawide monitor so special?
Who doesn't love extra screen real-estate? Sure they occupy a lot of space. However, they give out that fabulous cinematic pleasure on a desk. Whether you are a hardcore game enthusiast or a movie junkie, an ultrawide gaming monitor is insanely must-haves for that very reason. I mean, I don't discredit a typical 16:9 monitor, they are not that bad at all. However, they don't have as many advanced perks as the ultra wide screens have. You can say that my enthusiasm towards ultrawide monitors is almost on a childish level but don't they look cool? Owning one will make you look back to the 90s as a kid,(if you are a 90's kid.) During those years the computers were those that include the box-type bulky monitors. And flat screen only existed in science fiction movies.
Ultrawide gaming monitors came about to make any professional work way easier since they provide enough room for multiple programs opened all at once. Think NASA for example. Well, they still use dual monitors but at least they have many ultra wides too. I personally prefer a wide screen than dual monitors. Besides, why need to go through the hassle of setting up two monitors only to see the bezel splitting your view? The majority of the ultrawide monitors nowadays include software that allows you to divide the screen into 2 or more segments. To think that they don't, would be a shame. The truth, in a nutshell, is that they make every computer-related activity more immersive and enjoyable.
Keep A Sharp Eye On What's An Acceptable Ultrawide Monitor
What do I mean by this? The screen resolution has a huge impact on ultrawide gaming monitors. To those you are not tech junkies, this is very important. If you are buying a 34-inch monitor, check its screen resolution, it should never go under 3440 x 1440. Otherwise, the picture quality won't be sharp because the pixel density is so low. The ultrawide monitors are not only great as an entertainment gizmo, it makes you more productive with admin tasks, editing your videos and photographs allowing you to open even up to 3 programs side by side. You can find many reviews regarding each popular or currently trending ultrawide monitors from trusted forums and videos. But hey, why not just let us do that for you? Filter down the best picks for you to choose from.
Dell UltraSharp U2913WM 29-inch Ultrawide Monitor
Dell's monitors are not always absent in the list of the best choices. For a 29-inch panoramic display, Dell's UltraSharp U2913WM is quite affordable, and games are incredibly immersive. This ultrawide gaming monitor runs with 8ms response in an IPS panel. Boosted with a remarkable color accuracy and precise colors calibrated at the factory setting. Which is perfect for games, movies, and for professional graphics designers. There's not a whole lot to say regarding this model's general productivity. You get much of its screen real estate. Easy to work with multiple programs sides by side regardless if it's a video editing program or as simple as a browser.
Dell makes it a point that this ultrawide monitor it does not lack the necessary inputs. From a single full-size DisplayPort, mini DisplayPort, to DVI, USB 3.01, and HDMI ports. It has pretty much all the connectivities needed. You wouldn't have trouble with multi-monitors setup. By the way, you will love that it has a very thin bezel. The height adjustment and swivel positioning is no problem with U2913WM (as most Dell's monitors are.) It is VESA compatible, you just have to purchase the mounting kit separately.
Last price update: 2017-09-06 18:38:56
back to menu ↑
LG 29UM68-P 29-Inch Class Ultrawide Monitor
Sporting a 21:9 UltraWide Full HD display with an IPS panel for a price that is just a little over 300 is quite good. LG is a popular brand and many tech junkies, and many office establishments. Under its very impressive hard anti-glare coating is an 8-bit IPS panel for a solid color performance. It has an average 5ms response rate and a 2560 x 1080p resolution, ensuring sharp image quality. The aspect ratio of 21:9 makes watching your favorite movies or playing video games is an incredibly immersive. The FreeSync feature is a huge plus on this monitor. The viewing angle is 178º/178º which should be for an ultrawide screen, it would be a shame if not right?
When it comes to its structural design standpoint, the thin bezel is very satisfactory and the stand seems fairly sturdy and secure. However, the height adjustment needs a little adjustment on your side as a user because it's not height adjustable. LG 29UM68-P feels noticeably snappier indicating a very low input lag. Despite its few design flaws, there's no doubt as to why it gets a high satisfactory rating. It has well-thought features that can accommodate both gamers and professionals.
Last price update: 2017-09-06 18:38:49
back to menu ↑
AOC Q2963PQ 29-Inch IPS LED Ultrawide Monitor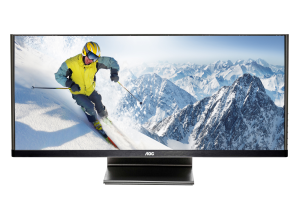 AOC Q2963PM Ultrawide 29-inch gaming monitor is an IPS panel that rendering a Full HD 2560 x 1080 pixels on its diagonal display. We became more than curious to see what makes this monitor a popular choice among game enthusiasts and movie junkies. With its features onboard, it holds an excellent color accuracy and high light output which is ideal for a majority of computer tasks as well as viewing tasks. It has a screen-splitter function so that you can watch a tutorial video while doing your work. As with this model, it's sweet to watch movies without annoying letterboxing.
Taking a look at its multimedia connectors, apart from the basics DVI-D with HDCP, DisplayPort connectors, VGA, HDMI, and mobile high-definition link for charging your phone. It has an enclosed speakers for better cinematic viewing. Although it only has 60Hz for 2560 x 1080, it does a great job with the majority of digital-related activities. This AOC's model is also great for multi-monitors since it is also not very difficult to setup. Plus, it is VESA compatible. If you are a professional photographer, videographer or a graphic designer this is a fantastic ultrawide gaming monitor for it.
Last price update: 2017-09-06 18:38:41
back to menu ↑
Samsung S34E790C 34-inch Ultra-Wide Curved Screen Monitor
I should start with this line "Immersive Curved Viewing Experience." Who doesn't love curved screen monitors combined with 21:9 aspect ratio? Samsung S34E790C has a 3440 x 1440 resolution, which is considered "Ultra WQHD." Just imagine the unparalleled panoramic views of an ultra WQHD display? Watching your favorite movies or as simple as viewing the photos you've taken has such a clear detail. Of course, like most ultrawide screen monitors Samsung S34E790C is also packed with impressive features including the PIP technology. Multitasking is a breeze with just both the PIP and curvature alone as a start.
Since the model is also equipped with Game mode feature, just a bit more calibrating you'll get the perfect picture quality. You get fairly average 4 ms response time, with the 3000:1 static contrast ratio it makes up for it. That's brighter whites and deeper black, which are more noticeable when you are playing video games. Inputs include one of each full-size and mini DisplayPorts, 2 HDMI, and a 4-port USB hub. However, due to the massive size of the screen, it might a bit of a challenge to swivel around and aim up and down. The ultrawide monitor is also VESA mounting compatible.
Last price update: 2017-09-06 18:38:21
back to menu ↑
Dell UltraSharp U3415W PXF79 34-Inch Ultrawide Curved Monitor
This is the kind of monitor that your friends will envy. It has a really sexy appearance (the best term I can come up with,) along its show-stopping, UltraSharp picture quality. Now this gorgeous widescreen has more than just sporting a WQHD resolution. Most monitors have 3-watts integrated speakers, but Dell's UltraSharp U3415W PXF79 has 7-watts. I think that's just right for its large. On top of its immersive, panoramic screen it is obviously designed ready for a multi-monitor setup. Our favorite is its Easy Arrange feature, it has preset, and customized layouts wherein you can snap each of the windows you've open at the same time. This ultrawide gaming monitor is certainly made for multitasking.
Another great thing is, despite its giant screen, it has no issues so far with adjusting the height, tilt and swivel options. It also didn't lack inputs for connecting multiple peripherals. You get the MHL, HDMI, full-size DisplayPort in, DisplayPort out, and a mini DisplayPort in. Moreover, you get an audio line out, 2 upstream ports, 4 downstream ports, and a Stand lock. Underneath the hard anti-glare coating is an IPS screen with the average 5ms response time.
Last price update: 2017-09-06 18:38:03
back to menu ↑
Acer Predator 34-inch Curved UltraWide Monitor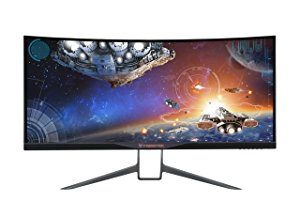 Now, a quick panel response, a few game-specific picture modes, and maybe a flashy appearance is just considered basic specs. In order for a computer monitor to qualify there's a lot of other special elements needed. Especially, given the fact that there's an increasing number of tech-savvy users, it's a tight competition. What will you get from hard-earned cash with Acer Predator X34? You get a 3440x1440p flicker-free IPS panel, 4ms response time, upping the refresh rate to 100Hz because of its NVIDIA G-Sync feature. Not to mention it has decent integrated speakers featuring DTS tuning.
By the looks and specs of it, it seems to have the essential requirement in the gaming and live streaming category. An important note for professionals, it has 100% sRGB color gamut. An ultrawide size of 34 inches entertainment and work device, having 1 DisplayPort, 5 high-speed USB 3.0 ports, and an HDMI port. The stand is very modern and clean looking, slim but sturdy enough to carry the weight of the monitor. We like that it has a cable management hole for all neater setting of cables, that is a bonus too for multi-monitor setups.
Last price update: 2017-09-06 18:37:55
back to menu ↑
Asus ROG PG348Q 34-Inch Curved Ultrawide Monitor
What can we say? The Asus ROG series is a household name for hardcore gamers, this huge ultrawide gaming monitor earns a title of a gaming monitor. A pixel density of 109 per inch ensures great detail in games and videos. Sporting an IPS panel and enhanced with NVIDIA G-Sync technology shooting the refresh rate to 100Hz. The response time of 5ms is average. The G-Sync help reduces input lag, drop screen tearing, and minimize display stutter. This big boy has potentials Maximizing immersion for video games and movies. Including Asus, Eye Care is an essential point lowering blue light.
Considering that this monitor has a huge screen, immersive visuals won't be fun if we get eye strains. if you are in the digital art industry, you will love that this ultrawide Asus ROG has a 100% sRGB providing vibrant, lifelike images. It might look bulky for such skinny legs, the stand is tough and doesn't shake when you adjust the height, tilt or swivel the monitor. Of course, it has a set of inputs HDMI, DisplayPort, an earphone jack, 4 USB 3.0 and a single upstream. Its frameless chassis look greater for wall mounting, which we recommend since it is VESA compatible.
Last price update: 2017-09-06 18:37:44
back to menu ↑
LG 38UC99 38-inch Class UltraWide Monitor
By all means, LG 38UC99 Class UltraWide monitor is a monster monitor with monstrous features with its massive 38-inch screen size. Not only it has a massive 3840×1600 screen resolution, and an IPS curved panel, it has 1ms motion blur reduction too. It might be a bit pricey, but the majority of the users who gambled to throw out cash for this ultrawide gaming monitor are very satisfied with its overall performance. Customer reviews from hardcore gamers have an over-satisfactory of its ability to bring games to life.
At 5ms GTG response time, an average 75Hz refresh, and FreeSync technology for seamless gaming, it is very much an equipped gizmo. The mega-wide LG 38UC99 Class is boasting 10-watt Bluetooth speakers with rich bass and its USB Type-C™ & USB 3.0 Quick Charge. This input feature allows you to charge a laptop or your tablet while transferring data or playing 4k videos all at once. The over 99% coverage of the sRGB spectrum is highly an advantage for videographers, photographers, and graphic designers since you can get as much out of its size. The color accuracy is impressive with an easy to use on-screen control. It also has preset monitor layouts for PIP.
Last price update: 2017-09-06 18:37:36
Conclusion
To be fair, you don't have to be a monitor nerd to even worry about which one to choose and get confused over the pricey and cheap ones. They're the best picks that we enlisted after all. You just need to figure out which one suits your daily tasks and your liking. Just make sure to have a sharp eye on a monitor's screen resolution for its size, if it has the split-screen feature, and the number of inputs it has.