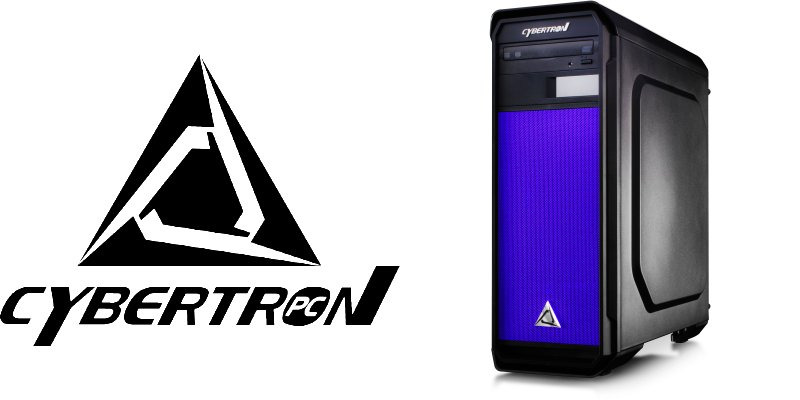 Actually I don't know where to start but let's get through with it. I've just ordered this built offered by Cybertorn couple days ago and now I've received it. I need this built for two things actually. The first one is to finish my jobs since I work as a freelance that use lots of applications and the second one is for gaming purposes since I love to have some times in playing some old PC games. My friend of mine showed me the link and I saw a very interesting offer for a PC less than $700. Yes, all of the specs did fulfill my needs for those my purposes but you know, there is some times where what is advertised is not the same with the real stuff. So, I did lots of inspections before I decided to try Cybertron's built. From some comments, I've found some satisfactions especially when it came to performance and neat built since it allowed us to add more fans to the computer (the rating is good too). So then, with a supposedly cheap price, I was able to get some gaming built computer but also capable to run some applications for my job.
Windows 10
Now the computer is on my bedroom so let's do a bit of review for this built. So yeah, the computer's name is a bit long which is the CybetronPC Rhodium 950 X8. It is practically a name which explains what's inside the computer. Firstly, let's talk about the operation system. The OS that has been installed to this PC is apparently Windows 10. Just like everybody else, I was disappointed at first since this OS has lots of problems with some games. However, this OS is very comfortable to be used for my work purposes since it is more flexible, in my assumption. However, after I installed few games with this OS, zero problems have occurred so far although some games need a bit of tweaks before it runs perfectly within this IS. So far, I'm satisfied with the OS (maybe because it has been installed with DX 12?)
back to menu ↑
Nice RAM
Next is the RAM. After a quick check through this desktop computer, it is stated that it uses DDR 3 with 16 GB RAM. Surprisingly, it was a bit "too much" for less than $700 desktop computer but what I found is real. So yeah, I am very pleased that it passes my expectation for such a presumably cheap desktop computer. This is because of my habit which is doing two different stuffs at a time. For example, I love to play games while opening job-related apps on the other window. With this kind of RAM, I think I will be able to open more apps while playing game. I guess that's it for the RAM part.
Last price update: 2017-05-04 18:43:04
back to menu ↑
Acceptable Graphic Card


Alright, moving on the next spec which is the graphic card. From Amazon, it is stated that NVIDIA GeForce GTX950 with 2 GB and DDR 5 graphic (that was a long one) is within this desktop. After a quick check, I can confirm that what has been stated in the Amazon is the same with what I've found in the desktop so it's for real. This card is actually, again, above my expectation since I intend to only play some low-graphic games since my previous gaming computer couldn't run games with high-end graphic. First, I installed the old legend game which is the GTA San Andreas and it worked flawlessly in this desktop. Then, I tried to install another old game which is Medal of Honor (the second series if I'm not mistaken) and it also worked very well. So yeah, I did buy some "big" games that often require high-end graphic card. What I bought are PES 2016, Bioshock, and also Final Fantasy XIII Lightning returns. And guess what, every of those games are able to be run with good FPS and no errors whatsoever (even by using Windows 10). Seeing those good results, I intend to get some other games and try it to this desktop. Therefore, for my overall review from the graphic card part, is, again, above my expectation.
back to menu ↑
Large Disk Space
So yeah, three great reviews for three specs within this desktop. Shall we continue? Of course. It is my pleasure to give good reviews to good stuffs. Alright, now moving on to the next step which is the hard disk space. Now this spec is actually my biggest concern when I tried to buy desktop computer a few days ago. This is very important since my job requires me to install some "heavy" apps with more than 1 GB each. This is why I bought extra hard disk for my previous computer since the space Lwas unable to keep all the files and apps under the same drive. 1 TB hard drive is an OKish for me since I'm able to keep all of my works without having to spend another money for another disk space. Another thing to remember is that I also need to free some spaces for my new games since most of it needs more than 10 GB. So, 1 TB is frankly more than enough for me so that I'm able to split the space for both games and for job-related apps. So, the fourth spec is above my expectation.
back to menu ↑
Cool Design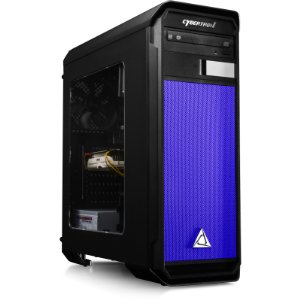 The next thing that I want to review is a bit uncommon but it is true. So, the next spec is the design of the desktop. To be honest, I love the design so much and it looks cool on my job desk. It is somehow slim and fits with my desk that is filled with some random stuffs. The design is also elegant with a bit of blue color. Simply something that I love to have in my messy room. The weight is also somehow very light comparing to my previous computer which is heavier than an elephant. So I am able to carry the desktop around if I tend to move my desk to search for some different spots. Again, this spec is also above my expectation.
Last price update: 2017-05-04 18:43:04
back to menu ↑
Gaming CybertronPC Rhodium 950 X8 Specs
Specification
| | |
| --- | --- |
| Operating System | : Windows 10 |
| | |
| --- | --- |
| Processor | : AMD FX-8300 3.30GHz Octa-Core |
| | |
| --- | --- |
| Graphics Coprocessor | : NVIDIA GeForce GTX 950 2GB GDDR5 Video Card |
| | |
| --- | --- |
| Storage | : 1000 GB SATA III |
Slots, Ports & Connectivity

: 1x HDMI
6x USB 2.0
3x USB 3.0
1x RJ-45 Network Ethernet 10/100/1000
Audio
2x DVI
1x DisplayPort
Dimensions

Length: 19.15 inches

Width: 7.99 inches

Height: 17.3 inches
| | |
| --- | --- |
| Similar Desktop | : CyberpowerPC Gamer Ultra GUA3600A Gaming |
Last price update: 2017-05-04 18:43:04