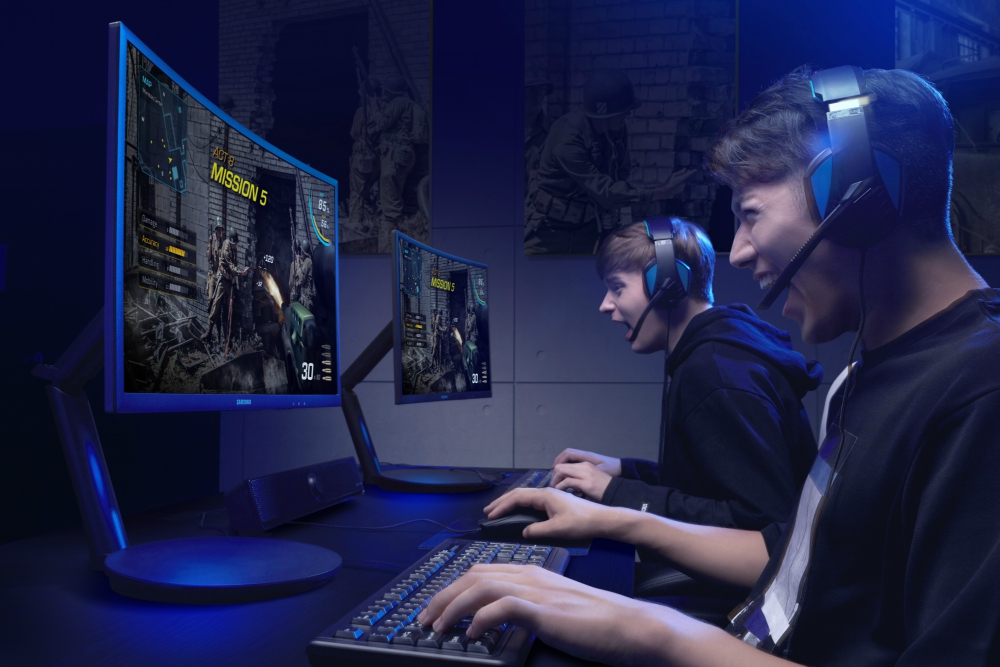 Here's the thing, it can be difficult to tell the difference between a standard display and a screen for gamers. What does it take to get a powerful rig to satisfy your PC gaming appetite? We all have different preferences when it comes to choosing the good enough to perfect graphics solution without subjecting to ghosting, tearing, or image blurring. We all really hate to spend a good amount of hard-earned money if we don't feel like we can get the most out of the freshest racing, and other fast-action games. Putting a high note on the first-person shooter (FPS) games. Especially, for a hardcore PC gamer but aren't tech savvy, it's really critical to choose the best gaming monitor. Your graphics card should reciprocate to your display in order to function smoothly and fend off any motion problems as much as possible. In this guide not only we handpicked the best monitors in the market. We have also noted the best tips from the experts on how to choose a display that provides an edge as it delivers a smooth, immersive gaming experience.
Gaming monitors vary in features, sizes, design, budget, and even as simple as the accessories. It is much easier to get confused on which gaming monitor to choose that can meet your budget and particular needs. The price range is often a high note, but if it has most of the bits we want, we take the opportunity to own one. We went through a whole lot of discussions in forums, questions on popular YouTube videos, and our experts who took the time to test every monitor that gets marked with greater gaming capability. How we rate the models in the gaming monitor market are partly based on the number of sales a certain unit obtains from e-commerce giants such as Amazon.com. We keep an eye to the most updated additions in the virtual world of digital gaming, of which a few are very much known brands.
What Are The Highlights?
The gaming world is an immense world that continues to expand as it gets even more in-depth. As it progresses, both hardcore gamers, as well as casual gamers, are getting more and more specific with what they look for. Most of us want a powerful gaming monitor that doesn't make the budget sick. Some are more into an equally work-adept and gaming monster performing monitor. Others are stoked with mammoth size ultrawide monitors, curved displays, and those with super thin bezels. Of course, the ultimate 4k displays, AMD FreeSync and NVIDIA G-Sync monitors are often on the top must-haves. Nonetheless, as much as possible, we want a monitor that hits a higher refresh rate and response time. 1440p monitors for gaming doesn't get left behind on the list. In our list, the gaming monitors we selected are TN and IPS based panels. It only makes sense. Not everyone is after the fancier features. In this guide, we selected the monitors with the best gaming capabilities, budget, and appearance that are easy to the eyes.
ASUS and Acer models have dominated our list and you'll understand why. Below, we present our list of not only what makes the cool gaming monitors the coolest among the others. Moreover, we also want to be transparent regarding some of its minimal imperfections that we have observed, which are mostly almost unnoticeable.
The Best G-Sync Gaming Monitors
In 2015, with the introduction of ROG Swift PG278Q, Asus pioneered one of the premium components of gaming monitors, the NVIDIA G-Sync adaptive refresh rates. The game visual modes are pretty subjective. However, although, this 27-inch model is one of the first to support 2560 x 1440 resolution at 144Hz, it is using a TN panel. It actually made it big when it hit the market. Still, many gamers are hoping for an IPS version. Its brother the 27-inch ASUS ROG SWIFT PG279Q made its way in the industry, equipped with a native refresh rate of 144Hz. And with the NVIDIA G-Sync technology, the frame rate allowing you to mark up the display up to 165Hz via DisplayPort depending on what your game requires. One improvement we noticed is the addition of an HDMI port, which is not available on the ROG Swift PG278Q. The only trade off that we believe do not affect much is moving 3 grooves down on its pixel response rate of 4ms. That's simply because it is using IPS panel in its 16 x 9 display.
By the looks of it, it has a low-profile thin bezel, a sturdy and flexible slim design, zero difficulties to adjust the height, tilt, and pivot. The onscreen controls are such a relief to use, which is an excellent score against its baddest competitor, the 27-Inch Acer Predator XG270HU bmiprz. The Acer Predator is a ferocious IPS-based display that supports NVIDIA G-Sync. The improved generation of ROG SWIFT has a stellar color accuracy and contrast ratio providing smoother animations across the board. Even with the default overdrive setting while playing FPS, we really didn't encounter motion blur issues. Only that, this stunning monitor has no backlight bleed, and it results in the moving images almost being eerily clear. On the other hand, the Acer Predator's great aesthetics is equally incredible. A sleek design natively 144Hz up to 165Hz overclockable. The matte screen which is an improvement over its TN predecessor. Both gaming monitors pretty much share the same specs, although the Predator looks more gaming-oriented and the colors are slightly edgier. The transformer-like feet and ultra slim bezels are undoubtedly meant to draw more attention than the ASUS PG279Q. ACER also has the advantage in other areas such as the 2 more USB ports. However, for the most part of using both, we feel that the ASUS PG279Q wins in terms of the panel quality and stability of the base. Why do I say so? We find the ACER Predator's on-screen display to be somewhat ambiguous while going through the menu icons. Unlike the ASUS, navigation options are very straightforward and easy to the fingers. We think ACER needs to improve the OSD's layout.
Acer makes a top of the line models. They don't go missing on rank listings they always up their game. In fact, Acer's Predator series is so cool that you want to flaunt it when you have one. The 24-Inch Acer Predator XB241H BMI Gaming Monitor is just one of them. It remains as one of the best NVIDIA G-Sync gaming monitors despite being just a TN-based display. The Full HD 1920 x 1080 gaming monitor natively runs at 144Hz refresh rate and can boost up to 180Hz overclocked. Not to mention, a 1ms response time. The XB241H comes with an HDMI and a DisplayPort input for your game consoles. It has complete ergonomic adjustments, so moving it is a breeze. And the fact that it is a 1080p, with a Nvidia GTX 980Ti SLI graphics card, the 180 frames per second with Battlefield 4 shouldn't be impossible to achieve. You don't often see a great quality G-Sync 1080p monitors out there. This gaming monitor holds very striking aesthetics. Other than its panel type I don't see other reasons that can dissuade you from buying this. Rest assured this model is money well spent.
back to menu ↑
Budget-Friendly FreeSync Gaming Monitors
Let's talk about FreeSync technology. Both NVIDIA G-Sync and AMD FreeSync pretty much have the same concept. It manages the framerate and the refresh rate eliminating screen tearing, ghosting, and all that annoying input lag. To sum-up, the difference between the two can fairly go almost unnoticeable. The AMD FreeSync is more widely employed and uses the video card's functionality. While G-Sync requires the NVIDIA's permission to use. Performance wise, may not be created equally but has the same goals and works as great. A hot pick you can consider is the 24-Inch ASUS MG24UQ Gaming Monitor and <24-Inch AOC G2460PF Full-HD Gaming Monitor. Both are 24-inch budget-friendly FreeSync models, but the Asus is a 3840 x 2160 display while AOC is a 1920 x 1080 full-HD. It's not that I am outright suggesting to drop AOC knowing it is next to a 4K display.We were surprised by AOC G2460PF's underdog quality and a gamer-favorite for many reasonable grounds. Apart from its really affordable price, just a little over $209 you can run it with the most inexpensive of video cards. And yet doesn't miss a chance to enjoy a smooth gaming free of visual artifacts. In the Full HD resolution category, this TN-based AOC G2460PF is a top-value for an entry-level 144Hz monitor. With an adaptive sync, a rapid refresh rate of 1ms, and the native 144Hz response time. Not to mention its user-friendly on-screen display menu, you got yourself a pretty good deal.
But if you don't mind paying $140 more, you might as well get the ASUS MG24UQ. A 4K UHD display with an IPS panel, 186ppi, ghost-free overdrive, and an AMD FreeSync adaptive-sync in a fairly cheap price of $349. The FreeSync range on this monitor is 40-60Hz with 4ms response time. It's not just us who tested and observed the great quality of this monitor but this is also heavily recommended by competitive gamers. The 27-Inch Dell SE2717H Gaming Monitor does not also get left behind for the budget-friendly FreeSync gaming monitors. Being an AMD FreeSync supported monitor at a price that is below $200 is absolutely worth celebrating. Not to mention, a very much decent size of 27 inches. Why is this so exciting? Given the fact that most Adaptive-Sync monitors whether G-Sync or FreeSync. When teamed up with IPS panels, UHD, and speedy refresh rates, the price tag creeps up. Fortunately, not the case for Dell's SE2717H. It has an IPS panel and runs at a max of 75Hz refresh rate. However, as they say, you get what you paid for. You can't adjust the height, you can't pivot it, you can't swivel. You can only tilt it. The SE2717H has a sturdy stand that doesn't wobble despite its limited adjustment options. Overall, it is still an amazing monitor for its price.
back to menu ↑
The Best UltraWide Curved Gaming Monitors
Another 2 G-Sync models we find really awesome are the 34-Inch Asus ROG SWIFT PG348Q and 34-Inch Acer Predator X34 bmiphz as part of the best gaming monitors. Talk about a pinnacle display, both are curvaceous 34-inch IPS display running at 60Hz and hits up to 100Hz with artifacting. Admittedly, both monitors have an uncanny resemblance of scan line and blacklight bleed issues. In our opinion, it may not have the same premium gaming point as its younger brothers, being at 4ms response time, content creation may be its best potential. Obviously, competitive FPS gamers wish for an extremely high refresh rate. Having an IPS display with 3440 x 1440 resolution, despite its marginally slower response time playing games is utterly satisfying. A strong advantage of Asus ROG SWIFT PG348Q delivering a dense pixel density of 110ppi. It may not be as good as 4k monitors but games are sharper and spare you the need of getting an extremely high graphics cards. On the other hand, ACER listens to the community when it comes to its aesthetics. They got rid of the glossy screen, and for the other settings, they pretty much share outstanding features. One thing that we hope to have been significantly thought out by ASUS is the gamma adjustment. Asus PG348Q has no gamma adjustment, although it might not be necessary if you adjust contrast properly. Both brands have a very close design with just a bit of external appearance difference. We are still gravitating towards Asus PG348Q edging out Acer Predator X34 because of the giant's no fuss navigation menu. The on-screen display of X34 is not as straightforward as the PG348Q. Also, the predator doesn't have the swivelling ability that the PG348Q. It's just really minimal differences.
But, if the 34-inch does not feel immense enough for you, let's go BIGGER! It's like virtual reality without the headset. The 38-inch LG 38UC99 Class UltraWide Gaming Monitor is a mammoth 38-inch display running at a native 60 Hz and can max up to 75Hz. It's a giant display of 3840 x 1600 gaming goodness as of yet. If you are a gamer who isn't a fan monitors with entirely gaming-oriented appearance this one is a hot choice. LG 38UC99's more inputs and AMD FreeSync are just the tidbits coming of improvement when you compare it to its predecessor the LG 34UC97. The dual link up or picture by picture mode is a sweet feature. It lets you have your laptop display side by side with your normal desktop. Our experts have smiles on its panel performance. Accurate gamma and contrast ratio resulting in games and movies look great in motion. The viewing angles are great, backlight bleed is way tamer compared to most curved wide screens. That's a strong point for a very large screen like this monitor.
back to menu ↑
Is There An Alternative For The 38-Inch Giant?
Last month, both Acer and Asus made updates regarding their new giants which is said to have already hit the markets in the US. The Acer XR342CQK and Asus Designo Curve MX38VQ are said to have the same gigantic 3840 x 1600 resolution and a 21:9 aspect ratio on a 37.5-inch screen. Roughly as large as the LG 38UC99 with almost comparable specs.
back to menu ↑
Hot Picks Gaming Monitor For XBOX One & PS4 Consoles
Whenever we have the chance to jump onboard with the latest gaming system such as XBOX ONE, PlayStation 4, PlayStation Neo, and PlayStation 4 Pro consoles. We want to make sure we get a beast gaming monitor for it. Especially, that the upcoming XBOX Scorpio which will hit the market by next year will also support 4K gaming. Apparently, with the growing numbers of very promising 4K gaming monitors, requirements, and a whole lot of compatibility get-to-knows. It can be intimidating for many users. Yes, your TV might be okay to use for your gaming consoles but it doesn't equally hold the mobility, image, and response quality that a gaming monitor have. Out selection are popular not only among next-gen console gamers but also as observed by our PC gaming gurus. The 24-inch gaming monitors are pretty popular for gamers but greater immersive gaming experience is more achievable with at least 27-inch gaming monitors. Also, consider the optimal viewing distance to get the best gaming experience. For example, if you are using a 32-inch gaming monitor you should have a minimum distance of 1.7 ft and a maximum of 4.5 ft away from the monitor. Both PS4, PS4 Pro and XBOX ONE are workable with 1920 x 1080 resolution. And, with the response time it should be at least 5ms.
One of the best we find tailored for performance with PS4 Pro is the 28-inch ASUS MG24UQ Gaming Monitor. I did a span of research before it came to a conclusion that the ASUS MG series are the beast. Here's why. It is a 3840 x 2160 4K display at 60Hz which is the maximum capped for consoles. It has great speakers, HDMI 2.0 to easily support 4K at 60Hz. Technically, there's no need to get a monitor with more than 60Hz refresh rate because PS4 and XBOX ONE consoles won't go beyond that range. It also has a great size with 6 preset display modes and smooth ergonomic options for a much better viewing.
The next gaming monitor we eyed to be a great partner for PS4 Pro is the 27-Inch LG 27UD68-P 4K UHD Gaming Monitor. LG have pretty much have made a bunch of good quality monitors back in the day. They still do, but they don't seem as aggressive as ACER and ASUS in the parlay of gaming monitors. Nonetheless, their brand is still often present as one of the most popular. If you are looking for a 4K UHD 3840 x 2160 IPS gaming monitor that works with the PS4 Pro & XBOX ONE on a $500 mark, you should seriously check this model out. It holds superb viewing, and the price which is $500 is pretty reasonable. In our opinion, you wouldn't think it's a gaming monitor because it looks very neat and classy with its white and brushed aluminum finish. Although, the adjustment options may disappoint you a bit because it is far from perfect. It can only tilt and nothing more, but at least the thin-looking base is quite stable the monitor doesn't wobble. I also want to compliment this monitor's on-screen display menu because it is so easy to go around with the use of its joystick. Additionally, it features AMD FreeSync via DisplayPort, Dynamic Action Sync, Game Mode, and Black Stabilizer.
The graphics of a TN panel may not be as awesome as the 4K display, but it can't be labeled as "Ultra Fast Console Gaming" if 27-inch BENQ's ZOWIE Console eSports Gaming Monitor isn't upping its game in the competitive universe of gaming. There's a bigger reason as to why this is a name that is recognized by elite global pro gaming leagues, such as Intel Extreme Master and DeamHack. It features a black equalizer for super dark scenes. Perfect for games such as Call of Duty (CoD), Counter-Strike, and HALO. It has a variety of inputs, low blue light, and a rapid 1ms response time. It is tailored for e-Sports tournaments on any console, so more and NEVER less that you can get a solid gaming enjoyment with your PlayStation Pro, XBOX ONE, Wii and Wii U.
If you don't need a big console gaming monitor, and you are more particular of a budget PS4 Pro and XBOX compatible we suggest the 24-inch ASUS VG245H Full HD FreeSync Gaming Monitor. It doesn't cost an arm and a leg, not even $200 and pretty achieves the low input lag we hope for. This is a no-brainer very affordable AMD FreeSync option, low blue light, and has dual HDMI ports for your consoles. Running at 75Hz with a fast 1ms response time, a variety of game mode functions, and great Ergonomic options. With the game tests we did, so far, this monitor didn't leave us in disappointment. The 5-way OSD joystick is much comfortable to use than having to tinker with the multiple buttons. Navigating the on-screen display is seamless, and that the screen is not too bright. This is something competitive gamers or even the casual gamers on a a low budget would absolutely like. However, not with as many options I'd say.
back to menu ↑
Hot Pick 4K UHD best G-Sync Gaming Monitors
Going for a 4K display would generally mean giving up speedy refresh rates. But, as long as it doesn't go slower than 5ms, it should do just fine. Hands down for the Acer X35's little brother, the 27-inch Acer Predator XB271HK bmiprz 4K Gaming Monitor. If you don't mind about the price and prefer to go all out for a visually perfect, high-performance gaming monitor we recommend this model. A 3840 x 2160 IPS-based display with a native 60Hz refresh rate. But, off course, with G-Sync it goes up to 75Hz, with that at 4K? This gaming monitor is a hot pick.The response time of 4ms in FPS games is ideal. Gamers will particularly appreciate that it is equipped with NVIDIA G-SYNC technology as well. And not to forget, four high-speed USB 3.0 ports. Also, if you are running GTX 770 graphics can it lets major games such as Titanfall, BattleField, and NFS to run at 45-50fps. Although this is entirely a gaming-oriented monitor, it has ingredients that may also do great with non-gaming tasks such as a 100% sRGB color accuracy.
Another model that we believe to be one of the most competitive among UHD displays with G-Sync technology is the 27-inch ASUS ROG SWIFT PG27AQ 4K G-SYNC Gaming Monitor. A 3840 x 2160 Ultra HD Display with an EyeCare feature running at 4ms refresh rate. You can game on enjoying the visual richness of its 163PPI pixel density. The good thing about ASUS is that their units are already assembled and ready to go right out of the box. This model is a matte finish which will not suffer the ugly results of fingerprint marks. It has the smoothest ergonomic design. Adjusting the monitor in any way you want, just does smoothly. In terms of gaming, let's just say a graphics card capable of at least 40 frames per second that should go well. As long as you have a powerful rig, like powering it with a GTX 980 NVIDIA graphics card this 4K monitor is definitely capable of performing absolutely gorgeous. Albeit rather surprising. Playing high-paced games such as BattleField 4, ASUS PG27AQ delivers smooth gaming.
The 4K G-Sync at its finest is not done yet. We still have the 32-inch Acer Predator XB321HK bmiphz Gaming Monitor as our 3rd best pick. Again, just like the Predator XB271HK, this is not a cheap monitor. Expensive because you need a powerful GPU to fully enjoy its premium caliber. A powerful NVIDIA graphics brings up the A-game to achieve decent frame rates. On the positive note, it has the best size of 32-inches, which is large enough to appreciate its 4K resolution. And, or, a great enough screen real-estate to truly put its 3840 x 2160 4K resolution to its purpose. Being a 4K display using an IPS panel, the refresh isn't as best as TN panels can do. This beast runs in 4ms with a native response time of 60Hz. So, if you play games that don't need a framerate above 60Hz, then this is absolutely worth-the-money for a gamer/photographer. Additionally, you don't often find monitors with really nice speakers, this one has it.
back to menu ↑
What Is The Ideal Budget For A Good Quality Gaming Monitor?
The truth is, it is really difficult to point the best price range of a "good quality" monitor for gaming. The fact that there's an enormous range of different models to choose from, it really all goes down to what specs & features you find the most important. The way it is externally designed and what innovation you think you can go without. It's very important to note that a good comparison of your best bets holds a greater convenience in making a decision. Ideally, with a budget of $1000 or a little over that you can already get 1440p UHD or 4K monitors in between 27 to 34-inch sizes. Within that price range, the monitor may already include adaptive sync technologies such as the FreeSync and G-Sync. Also, that may include 60Hz to 100Hz refresh rate and obviously built with IPS panels.
Should you get the 144Hz? That is totally okay if you are not particular with what is considered a highly excellent display that can provide an immersive gaming experience. Believe it or not, buying a 144Hz monitor while running a poor performing video card that can't run high enough FPS is not a unique mistake. And that, unfortunately, puts your high refresh rate into a useless feature. You can even get a 1440p 144Hz monitor below $200. In the height of IPS panels, TN-based monitors are dropping its price. But before you even point out those good deets. check first if you have the rig for it. If your budget is around $600, you still get 1440p. More likely, a "Wide Quad High Definition" display. That price range can get you a 27-inch sexy-looking, beast-performing gaming monitor.
Conclusion
Let's face it, even with the absolute bests displays in or outside gaming, there's no perfect science. Just like choosing 4K monitors just to devour your eyes with amazing graphics. And in order to to run games at higher quality settings, your system seriously needs a powerful graphics card. And with it comes to a few compromises, like a drop in refresh rates. Overall, these gaming monitors have marked many very satisfied competitive gamers and casual gamers, including our team of game nerds. What to look would depend on the categories that fit your needs, we simply just want to give you an idea to have an easier decision-making start.